The JSE has a series of initiatives that will aid in rapidly growing and scaling the SME sector in South Africa learn more about these below.
JSE Rise connects private companies to business benefits gained through incubation, an intensive acceleration programme, private placements, and listings.
JSE SME Offering
SMEs are the lifeblood of our economic growth as a country. As the largest Exchange in Africa, the JSE can play a pivotal role in developing SMEs to drive meaningful economic expansion.
Our Offerings
Master Classes
Mentorship
Networking
Investor Readiness Coaching
Introduction to Advisors
Training
Access to local and international markets
Capital Raising Opportunities
JSE SME Initiatives:
The JSE has a series of initiatives that will aid in rapidly growing and scaling the SME sector in South Africa
JSE Enterprise Development Programme
In 2016 we launched an Enterprise Development Programme targeted at assisting our Black Stockbroker Member firms to develop their businesses.
All JSE Stockbroking firms who met the definition of a black stockbroking firm as per the amended Financial Sector Code (i.e. at least 51% black ownership and annual turnover less than R100m) are offered the opportunity to enter into an Enterprise Development Agreement with the JSE. Qualifying participants receive 33% of the equity trading fees as well as 33% of their Application Programme Interface (API) connectivity fees back in cash, on a quarterly in-arrears basis.
Participants are expected to use the funds for the purposes of employing more resources, covering operational costs or the acquisition of technological tools that will enable the firms to enhance their service offering and ultimately their business activity/ growth.
JSE Phambili SME Development Initiative
The Incubator is a convenor of government and private sector institutions to support the ease of access to capital, reduction of red tape, international amplification of SME and support for incubators and SME support organisations.
JSE Enterprise Acceleration Programme
As part of the JSE's vision to grow shared prosperity, the JSE is excited to bring to the market a solution that will fast-track the growth of SA's Private Companies.
The JSE Enterprise Accelerator is a customized solution to pivot medium sized enterprises. It has demonstrated success by helping companies grow between 15% to 150% in revenue, market expansion and organisational & leadership development.
Criteria for entry: Companies need to be founder-led, entrepreneurial South African businesses in operation for at least two years with a turnover of at least R10 million.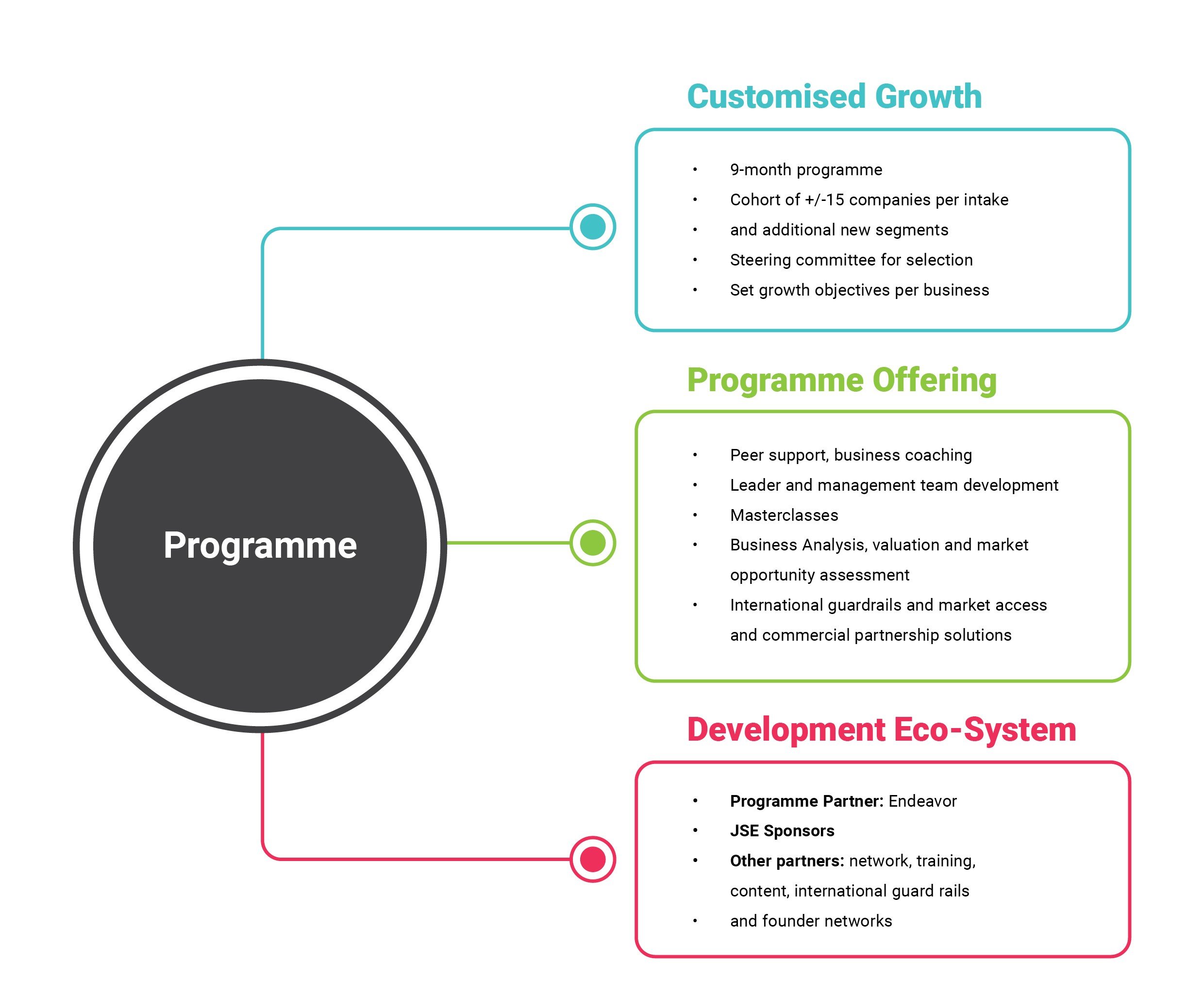 JSE Private Placements
In 2021, the JSE launched its new subsidiary business, JSE Private Placements (JPP), in proud partnership with global Fintech Leader Globacap. Our Vision is to be the most effective way for private companies to raise and manage investments on the African continent. We aim to connect Issuers and Advisors with Investors and Distributors.
Who qualifies for this initiative?
Private companies looking to raise debt of R1 million and above or equity of 10 million and above who meet the below criteria:
Qualification criteria:
SA registered entities looking for debt or equity funding for start ups or expansion.
Detailed Investment memorandum for funding requirements with projected financial models.
Agreements in place as per sector requirements.
FICA Verification
JSE Alternative Exchange (AltX)
AltX, the alternative exchange, is a division of the JSE Limited. It is a parallel market focused on good quality, small and medium sized high growth companies. AltX provides smaller companies a springboard onto the JSE Main Board with a clear growth path and access to capital.