As one of the world's top 20 largest exchanges by market capitalisation ranked by the  World Federation of Exchanges, the JSE has provided listed companies with access to deep and liquid capital markets in a regulated and secure marketplace for over 135 years. The JSE's capital markets enable innovation, capital raising and shared prosperity.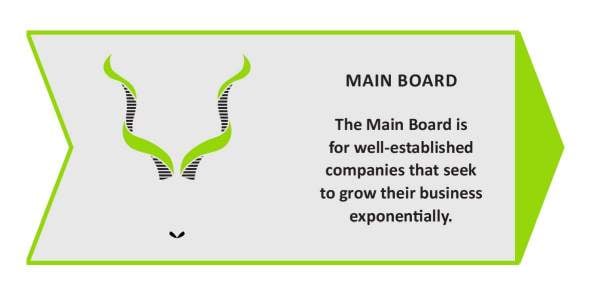 Well-established companies seeking equity funding to grow their business list on the Main Board. Almost a fifth of the Main Board companies are dual listed. This means that a company is listed on two or more exchanges. If a company has a secondary listing on the JSE, it has its primary listing on another exchange and is regulated by the exchange holding its primary listing. Companies have secondary listings to enable them to raise capital in markets other than the market accessed  by their primary listing.
To list on the JSE's Main Board, a company must have a sponsor. All interaction with the JSE takes place through the company's sponsor.
JSE-listed companies or product issuers must also appoint a JSE-approved auditor​ and legal advisor with experience in capital markets.​​