Introducing JSE Equity Market Enhancements
Central Order Book Cross Trades, Pegged Hidden Orders and End Of Day Volume Auction to help you trade larger and smarter.
 Equity Market
The JSE's Equity Market connects buyers and sellers interested in exposure to South African listed companies, dual listed companies from across the globe and a variety of listed products and has been in operation for more than 120 years.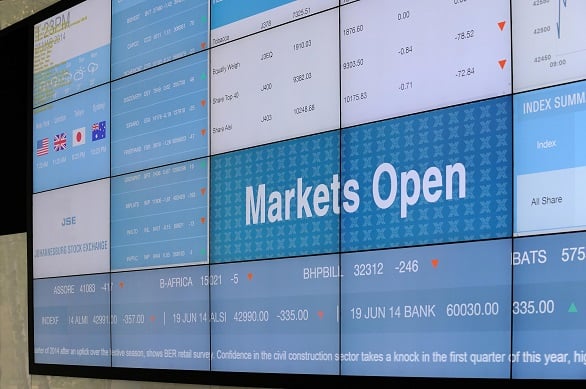 The JSE Equity Market consists of the Main Board and the AltX. This provides companies and investors with a myriad of listing and investment opportunities to cater for their specific needs. A large number of JSE-listed companies have listings on other stock exchanges throughout the world.
Through the JSE Equity Market, investors are also able to trade on a variety of products which include Warrants, Exchange Traded Products such as Exchange Traded Funds and Exchange Traded Notes, Specialised Products and many more to name but a few
The market offers members fast and efficient trading through its world class Millennium IT trading system and its high performance market data system.​
More than 800 Securities are currently available on the JSE's Equity Market.
Approximately 400 companies are listed across the Main Board and the AltX Board.
There are approximately 60 Equity Market member firms, authorised to trade on the market
JSE Equity Market Data is used by clients and investors in more than 40 countries.
Services
The JSE offers Equity Market member firms technology solutions that enable easier access to the market, assured clearing and settlement and 24-hour customer support.
Regulation
The JSE is a self-regulatory organisation (SRO) with the responsibility for supervising its members firms' market and business conduct. The Surveillance division maintains and monitors all member and client transaction data. This, together with various analytical tools at its disposal, significantly enhances its market surveillance capabilities and the efficiency and effectiveness of its investigative functions.
Instances of potential market abuse such as insider trading and market manipulation are reported to the Financial Services Board (FSB) for further investigation and possible enforcement action. Once a matter has been reported, the JSE continues to work closely with the FSB and assists by providing all information at its disposal that is relevant to the investigation.
Clearing and settlement
The JSE assures settlement of all trades executed through the Central Order Book on the Equity Market. The JSE also monitors the settlement of reported transactions and takes the necessary actions as defined in the JSE Rules and directives to ensure that settlement takes place. The JSE Equity Market clearing and settlement process kicks off at broker level via the JSE's broker deal accounting (BDA) system. The system facilitates trade confirmation, clearing and settlement of trades between member firms and their clients as well as back office accounting. It also compiles client portfolio statements.
Strate Limited is the licensed central securities depository (CSD) for the Equity Market and performs electronic settlement for all trades. It also maintains an electronic register of dematerialised Strate-approved securities.
Settlement on the JSE currently occurs on a T+3 basis​. Here 'T' refers to the transaction date when an investor bought a security, and the '+3' refers to the number of days it takes to complete the transfer of ownership from the seller to the buyer.
Disclaimer
All data and information provided by the JSE, except as otherwise indicated, is proprietary to the JSE. You may not copy, reproduce, modify, reformat, download, store, distribute, publish or transmit any data and information, except for your personal use. For the avoidance of doubt, you may not develop or create any product that uses, is based on, or is developed in connection with any of the data and information available on this site. You are not permitted (except where you have been given express written permission by the JSE) to use the data and information for commercial gain. ​

These factsheets are aimed to provide you with access to key information relating to our Equities and Equity Derivatives Policies