Johannesburg: 22 October 2021: Young learners are eager to gain the financial skills that will improve their future and give them independence, judging by the calibre of entrants in this year's JSE Investment Challenge. Every year the competition allows school learners and students from higher learning institutions to invest virtual money in the financial markets, giving them a solid understanding of financial instruments and the freedom to learn and speculate without any risk.
Each month the best preforming teams and schools in each portfolio received R500 per team member and R500 for the school as well as the supervising teacher or mentor. In addition, five annual cash prizes per portfolio amounting to R60 000.00 for the top performing teams were awarded today.
The JSE Investment Challenge is also proving to be a useful practical tool for students studying business at university level. Speaking for team VK Phenomenals from University of Johannesburg (UJ), winners of the July university speculator portfolio, Lulamo Mathebula said the genesis of their winning investment strategy was strongly linked to a business module offered to students aspiring to become Chartered Accountants (CAs). According to Mathebula, this business module places a great deal of emphasis on making students appreciate the link between real world events and business performance.
Schools from under-developed areas came out ahead this year, with the biggest wins from Mpumelelo Secondary School in Mpumalanga. Four students competing as MP Magic Traders generated an income of more than R53 000 on their initial virtual investment of R1 million during the six months of the competition. As well as winning the overall prize in the Income Category, Magic Traders and other teams from their school repeatedly won monthly prizes for building the best-performing investment portfolio and consistently outperforming other schools.
Their success demonstrates how hungry these learners are to acquire knowledge and skills that will directly affect their future, says Ralph Speirs, the JSE's CSI Officer. Their performance was particularly outstanding since Mpumelelo Secondary has extremely limited resources and its learners were introduced to investments for the first time through the JSE Investment Challenge.
"Their win is a clear statement that financial literacy is accessible to anyone regardless of their background and prior knowledge. It shows that through determination and grit, schools can learn and excel in putting into practice financial literacy skills," Speirs said.
Sizwe Mtshweni, the Mpumelelo Secondary School teacher who mentored the teams, said he appreciated the competition for what it was doing for learners and for their community. "Our desire is to see learners leave the education environment with a good understanding of how to use their disposable income and acquire healthy savings habits," he said. "This was an incredible achievement by our school."
Another team that found rich rewards through their investments was Limpopo Goes to The Market, comprising an accounting and an actuarial science student from Limpopo who are currently studying at the University of Cape Town. They grew their investment by a massive 52.99% in the University Speculator Portfolio.
The winning team in the Speculator Portfolio for Schools category were four young men trading as Pure Wholesomeness from Paul Roos Gimnasium in the Western Cape, with a growth of 23.79%. Winners in the Equity Portfolio were a team of four trading as Thor Investments from Maritzburg College in KwaZulu Natal who achieved growth of 16.62%.
The main aim of the JSE Investment Challenge is to improve the financial literacy of South Africa's young people by educating them about the fundamentals of investment strategy and different investment options.
It gives groups of up to four learners a virtual trading account of R1 million to invest on the JSE, competing against other teams across the country for six months.
There are four categories – Income, Equity, Speculator for high schools and Speculator for Universities/Colleges – and each school can enter more than one team. Monthly prizes are awarded to winning team members, their schools, and the teachers who help with their financial literacy education through the competition. At the end, final prizes are awarded to each member of the top five teams in the three different categories and the top 3 teams in the university competition, with additional prizes for their teacher and their school.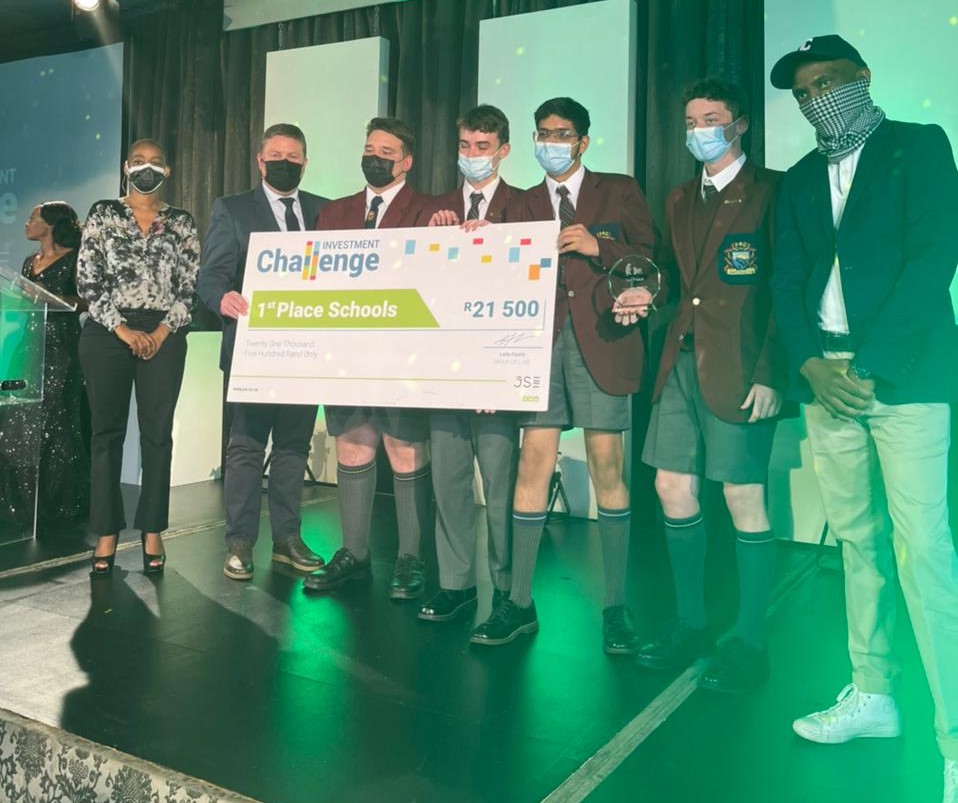 The overall winners for the 2021 Investment Challenge competition announced today are:
Income Category:
MP Magic Traders from Mpumelelo Secondary School, Mpumalanga.
Equity portfolio:
Thor Investments, Maritzburg College, KwaZulu Natal
Speculator portfolio for schools:
Pure Wholesomeness, Paul Roos Gimnasium, Western Cape.
Speculator portfolio for universities:
Limpopo Goes to the Market, University of Cape Town, Western Cape.
ENDS
ABOUT THE JSE
The Johannesburg Stock Exchange (JSE) has a well-established history operating as a marketplace for trading financial products. It is a pioneering, globally connected exchange group that enables inclusive economic growth through trusted, world class, socially responsible products, and services for the investor of the future. It offers secure and efficient primary and secondary capital markets across a diverse range of securities, spanning equities, derivatives, and debt markets. It prides itself as being the market of choice for local and international investors looking to gain exposure to leading capital markets on the African continent. The JSE is currently ranked in the Top 20 largest stock exchanges in the world by market capitalisation, and is the largest stock exchange in Africa, having been in operation for over 130 years.
As a leading global exchange, the JSE co-creates, unlocks value & makes real connections happen.
JSE general enquiries:

Email: [email protected]

Tel: 011 520 7000

JSE media contact:

Paballo Makhetha

Communication Specialist

Tel: 011 520 7331

Mobile: 072 419 4610

Email: [email protected]