Who we are
The Johannesburg Stock Exchange is the premier stock exchange in Africa and is based in South Africa where it has operated as a market place for the trading of financial products for 130 years. 
As one of the top 20 exchanges in the world in terms of market capitalisation, we are an ideal listing destination for companies looking to raise capital by tapping into large pools of local, global and institutional investor capital.
We are a fully electronic, efficient and secure market, with world-class regulation, trading and clearing systems, settlement assurance and risk management. We connect buyers and sellers in a variety of financial markets that include equities and equity derivatives, commodity derivatives, currency derivatives and interest rate instruments.
We are a member of the World Federation of Exchanges (WFE) and hold the chairmanship of the Association of Futures Markets (AFM). We are supervised by the Financial Services Board (FSB).
Our culture
Values are the heart of our culture. They guide and direct who we are and the behaviour we build and foster in our organisation.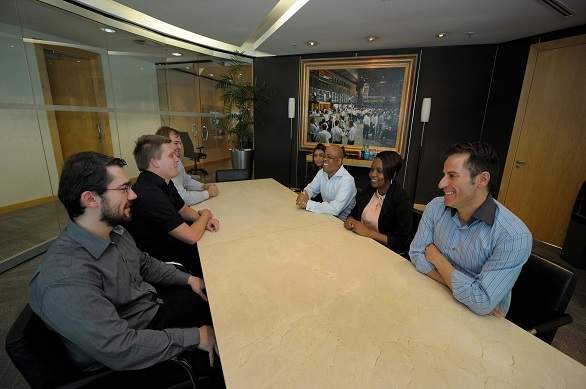 Who we attract
We hire people who are smart, curious and problem solvers. We embrace an innovative and collaborative spirit in our people.
Our values
Authenticity: We do the right thing for the right reason so that our colleagues, clients and stakeholders respect and trust us for our consistency, transparency and willingness to take responsibility.
Diversity: Our appreciation for multiple perspectives gives us the competitive advantage to creatively solve problems, meet the changing needs of our diverse clients and identify opportunities.
Energy: We take action with a positive, can-do approach to win the support of our colleagues, clients and the broader stakeholder universe in order to achieve great things together.
Insight: We build an understanding of the true nature of an issue and craft the appropriate response through a process of active listening, wide consultation, intellectual discipline and robust discussions.
Resilience: We keep going even when the path is uncertain or difficult, with the determination to adapt and improve from the experience.
Why join the JSE
The JSE recognises that its success and strength depend on the quality of its employees. We are committed to fostering a culture of continuous learning and high standards of performance. Our employee wellness programme is designed to encourage work-life balance for employees. We naturally seek to empower staff and encourage diversity and opportunities for all.
At the JSE, you will interact and engage with leaders and individuals recognised as experts in their fields. Be part of creating and developing new products and work on various exciting and challenging projects.
We will provide you with the necessary tools, support and development to help you reach your full potential. The JSE is very much a learning organisation, so we also encourage learning through training programmes, mentoring, sponsored education and paid membership of professional associations.